Ahead of the 5th annual New York Energy Week (June 19-22), we at the Spry Group checked in with EnerKnol, the creator of NYEW, to see how its user interface had developed since our consultation last year.
EnerKnol helps energy industry participants, from power utilities and law firms to financial service providers, to stay ahead of unexpected changes in a fragmented regulatory environment. It collects, sorts, and indexes millions of documents from more than 300 sources, making it a one-stop resource for up-to-date information on federal, state, and local energy & environmental policy.
We reviewed EnerKnol's user experience while working on marketing for last year's New York Energy Week, and while its backend functionality was impressive, it needed a more smooth and tailored user experience to provide optimum service that better engaged its current users.
Our review focused on how EnerKnol could put its best foot forward to prospective users and was backed up by our years of experience with data visualization and user experience design. The changes EnerKnol has since implemented helped fulfill its goal of capturing diffuse, inaccessible, offline information and putting it at clients' fingertips.
A new journey
Feedback from the Spry Group helped EnerKnol reimagine the user's journey from start to finish. Many of the changes simply let users know what tools are available to them. Based on our suggestions, EnerKnol introduced a "tour" feature that greets new users when they first log in. This tour provides a useful rundown of what the platform offers and helps familiarize users with its features, like searchable databases of policy filings and research papers. The more users know, the more they can take charge of their experience.
Another new feature, the "dashboard," also helps put clients in control. This new landing page gives users a convenient home base from which to search the platform, while also collecting and displaying relevant updates. Because of the diffuse nature of energy regulation, clients need to be able to customize the platform to only alert them to policy changes that affect their businesses and investments. We suggested that EnerKnol facilitate this tailored experience by folding an "alert settings" function into the "user settings" menu. This allows clients to put EnerKnol's software to work for them in more powerful ways, finding and foregrounding only relevant and timely information. This set of home base features shows prospective clients how EnerKnol's platform becomes more useful and targeted the more they personalize it.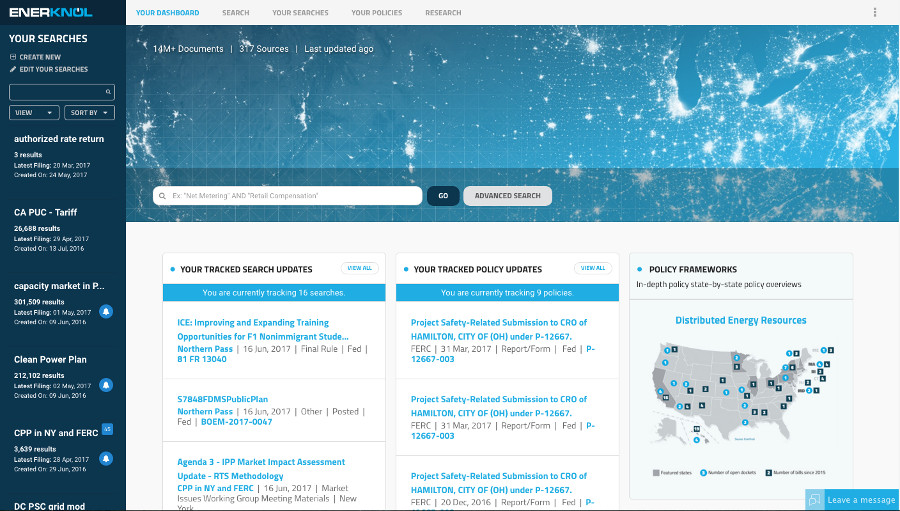 In the disjointed world of energy regulation, thousands of daily filings at the municipal, state, and federal levels create an atmosphere of uncertainty that can stall growth. EnerKnol looks to ease its clients' uncertainty by sourcing updates directly from regulatory agencies and legislators' offices. Despite the advantage of acquiring these filings from the source, EnerKnol was concerned that their platform's response time interfered with clients' experience. As they developed their platform based on Spry Group's suggestions, EnerKnol brought their platform's response time below the two-second threshold, allowing clients to seamlessly access the information they need. Meanwhile, the new "saved searches" menu helps users easily revisit research or data they've already accessed. These new features emphasize the underlying speed of EnerKnol's technology with an experience of seamlessness and ease on the platform itself.
Takeaways
EnerKnol tells us that their clients are pleased with the changes, and the company plans to involve them more closely in the design and vetting of new features. As the platform continues to evolve, new features and updates will be launched on the "dashboard" page, ensuring that all users are kept up to date on EnerKnol's latest functionalities. As EnerKnol continues to develop its user experience, its goal of bringing clarity and confidence to a sector haunted by uncertainty seems closer than ever.
If you're curious about EnerKnol's improved platform, there is still time to register for this year's New York Energy Week! NYEW brings together leading energy industry stakeholders for a series of talks and events focused on the future of the energy sector. For a complete schedule of events and their locations, visit the New York Energy Week website.