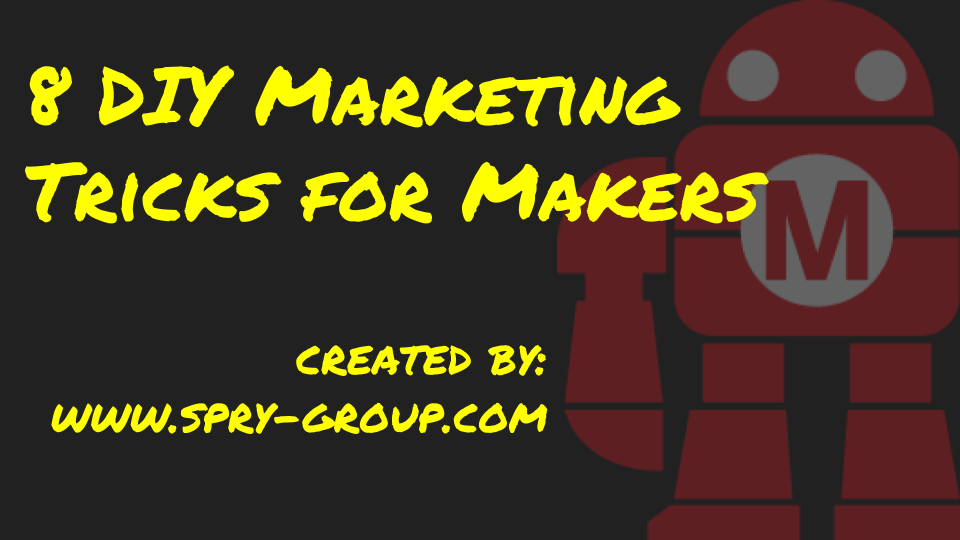 Journal your journey.

Use your blog to talk about your experience building your product. Share pictures of the process. Share both your successes and setbacks. Create a story people want to follow that connects them to you, your journey and your product. Publish to your blog first, then promote it on all of your social media.

Use online forums to get the word out.

Find forums where the users of your products hang out. Solicit feedback, offer advice, engage in discussions you genuinely find interesting. Online forums are great because they allow you to reach a pre-existing audience. Put a link to your store in your signature. Avoid trolls and flame wars.

Invest in your product displays, not Swag.

Swag costs money to produce and store. Save it for your paying customers. Invest money in your product displays, instead. Whether it's your booth or your online presence, you want to put your product front and center and show it in a light that makes people want it.

Get simple business cards.

Fancy business cards with funky shapes and photo backgrounds are cool, but they're not functional. They often hard to read, write on, and store in your wallet. Keep your cards simple. Make sure your contact info is readable. Provide lots of white space with a matte finish for note taking. Consider adding a QR code with all your contact info as well.

Use a hosted platforms for your online presence.

Whether it's your website, store, or blog it should just work. You're a maker. You should be selling or making, not monkeying with your server. Pick something you find simple to use, and preferably cheap or free. We've had success with Wix, Wordpress.com, Shopify, and Squarespace.

Network with other makers and co-promote.

At conferences and online, develop relationships with other Makers. Ask about co-promotion. Don't be shy. Just ask, "Hi, I'm trying to market what I make too. I'd be happy to like/plug what you're doing, if you'll return the favor." Ask about their experiences. You never know what you might learn.

Automate the boring stuff.

Use tools like Zapier, and IFTTT to automate tasks like reposting your blog to your social media or setting up autoresponders for support emails. You have a lot to do, any tasks that you can take off your plate will free up your time to grow your business.

Don't do it all yourself.

Business has a lot of moving parts. There will be parts you're not good at, or just dislike doing. For tasks you don't do well but enjoy, considering getting professional guidance. Consider completely outsourcing the things you can't stand. Eliminating sources of stress can improve your performance in other parts of your business.
We hope you find our tips helpful. Share you thoughts and feedback in the comments.